Purina Honor Roll
Project: Digital Transformation / App Design
Client: Land O' Lakes / Purina
Year: 2021

2021 Purina Honor Roll:
Transforming Purina's Mail-in Rewards Program into a fully Digital Experience
As part of their dedication to promoting and advancing animal nutrition, Purina is a major supporter of show animal competition. Held all over the country at local, regional and national levels, these shows are a core part of growing up in the livestock community and help pave the way to college for kids up to age 19.

Honor Roll is Purina's flagship program to promote and support the show animal community. The core of the program starts with participants (or their parents) submitting individual show animal wins to Purina which are verified and posted to the Honor Show Winner's page on purinamills.com.

At the season conclusion, participants will submit their highest competition win and select a prize based on the level (local regional, national). These unique prizes, (valued up to $300 for national winners), are only available through the Honor Roll program, not for sale, giving winners a way to celebrate their success in within the show community.
Problem
Our team identified that the laborious, mail-in process to submit a child's competition wins to Purina Honor Roll resulted in low participation and overall frustration among parents.
Solution
Our solution was to automate and streamline the Purina Honor Roll submission process by replacing mail-in submissions with a mobile web app that allows parents to submit win details and photos from their phone in just minutes.
Tools
Miro

Figma

UserZoom

Azure DevOps
Team
Marketing Manager

Lead UX Designer / Technical Lead

Business Analyst / Project Manager

4 Developers
My Role
Lead UX Designer

Technical Lead
Timeline
Discovery: 6 Weeks

Design & User Testing: 4 Weeks

Development & QA: 6 Weeks
Understanding the Target Audience
I began the project by learning more about the existing submission process. We started with SME interviews involving customers service and processors for the program. We also collected active documentation, forms and artifacts from the program. We followed this up with participant surveys and interviews.
Target Audience
Parents of show winners.

Show winners.

Purina employees responsible for handling and processing applications.
Surveys
After the project kickoff, we defined our research strategy and objectives. Understanding the target audience and their challenges were our priority. First, we built an online survey and shared it in various relevant communities. In just a few days, we received 18 submissions. Based on these, we identified 4 common pain points, which lead us to the next step.
Interviews
In-depth interviews were conducted with a diverse group of parents who had previous experience with submitting wins to Purina. These interviews provided deeper insights into their motivations, frustrations, and desires regarding the submission process.

Together with the team, we prepared an interview script with 24 open-ended questions, focusing on our target audiences' values, motivations, and routines. In 4 days, I recruited and interviewed 8 users remotely. We referenced the user interview findings throughout the entire design process.
Top Features for Participants
1. Simple Submission: The research highlighted that parents found data entry to be a significant pain point. Therefore, a simple and intuitive submission form was identified as one of the most crucial features. The form should be easy to understand and allow for quick input of essential details like event name, date, location, and achievement description.
2. Instant Gratification: The research indicated that immediate recognition and appreciation were essential for motivating parents to participate. Hence, a real-time acknowledgment with a digital "Rodeo Star" badge and a congratulatory email were identified as crucial features.
3. In-App Photo Cropping: The need to manually print and crop photos for submission was a considerable inconvenience. Therefore, an in-app photo cropping feature was considered highly valuable for allowing parents to submit photos directly through their mobile devices.
4. Transparent Status Updates: Parents expressed the desire for transparency regarding their submission's status and progress. Real-time updates and notifications about the status of their submissions were deemed important for enhancing trust and engagement.
5. Incentives and Gift Selection: To further motivate parents, offering incentives and the option to choose a gift from a curated list of products or receive discounts on Purina products were considered essential features for enhancing engagement.
6. Promotion and Awareness: The research identified a need for better communication and promotion of the submission option. Therefore, features to inform parents about the benefits of showcasing their child's achievements on Purina's website were deemed crucial.
Personas
We wanted to form a deeper understanding of our users' goals, needs, experiences, and behaviors. So, we created 2 personas for each of our user segments. They were based on user interviews and surveys, and we kept updating them throughout the project as we gathered more data. We used these personas whenever we wanted to step out of ourselves and reconsider our initial ideas.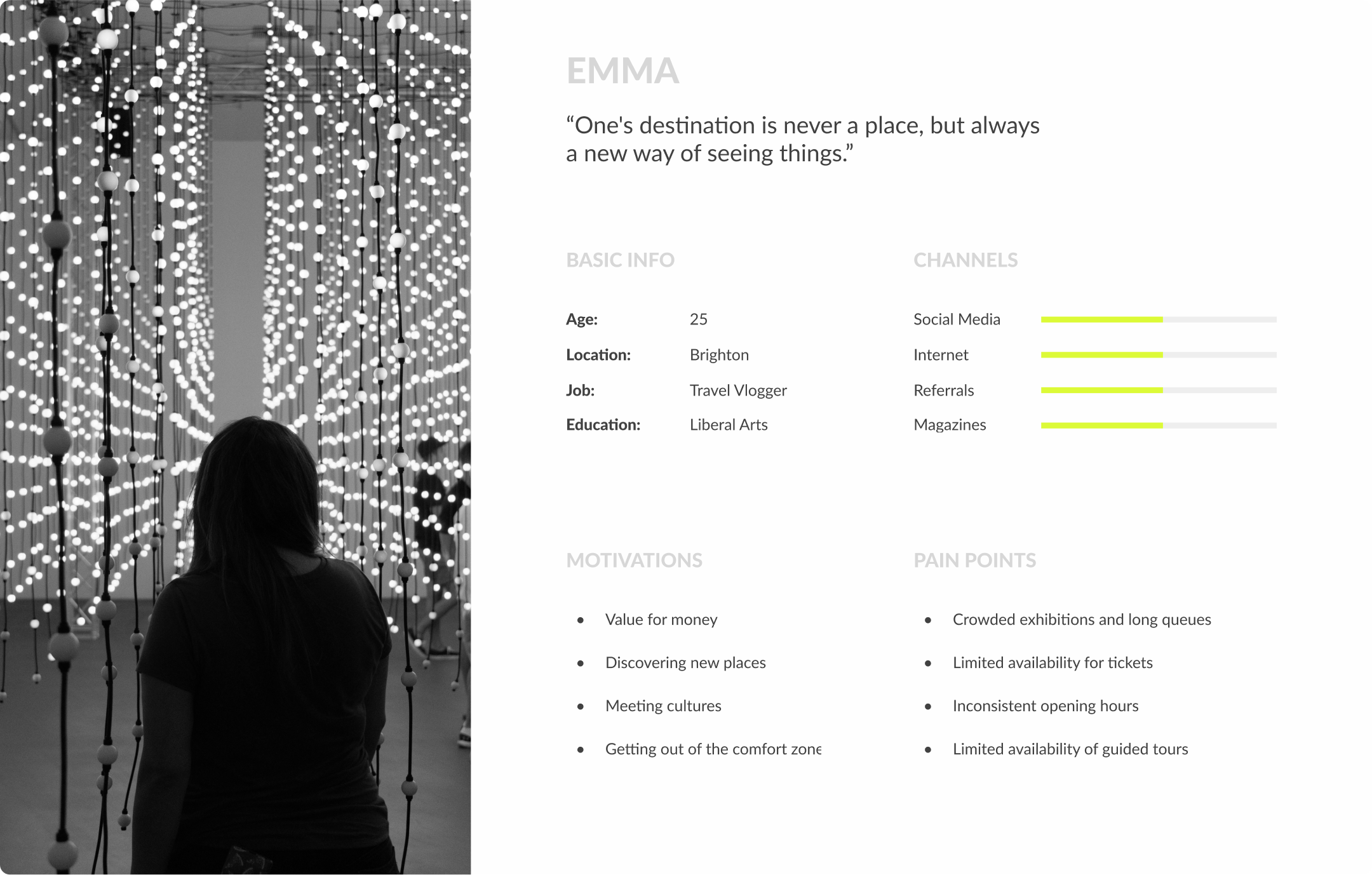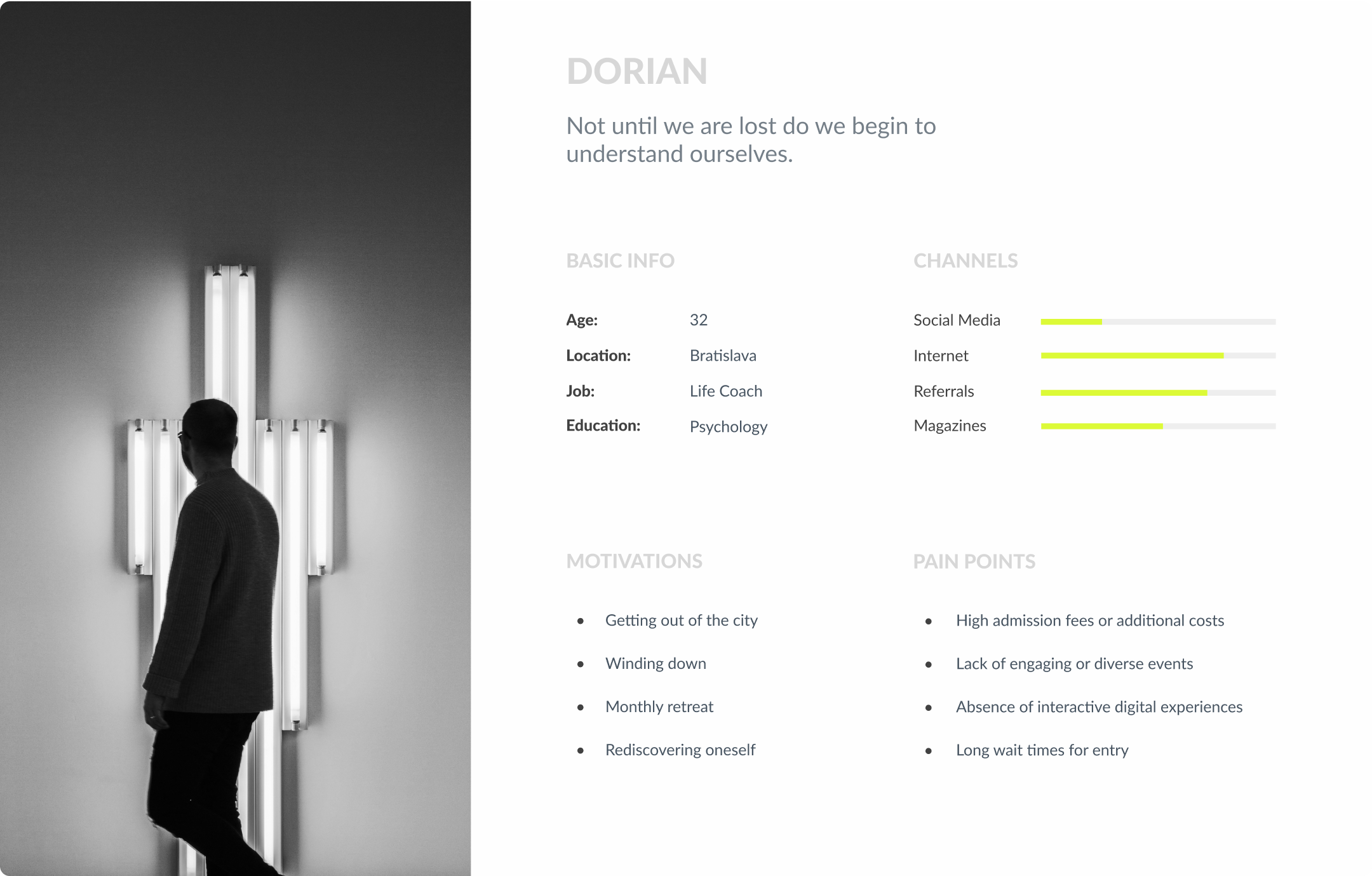 User Journey
Working together with the Show marketing business, we sketched a current-state user journey map, to identify opportunities for improvement. We identified several unnecessary steps and potential drop-off points in the flow.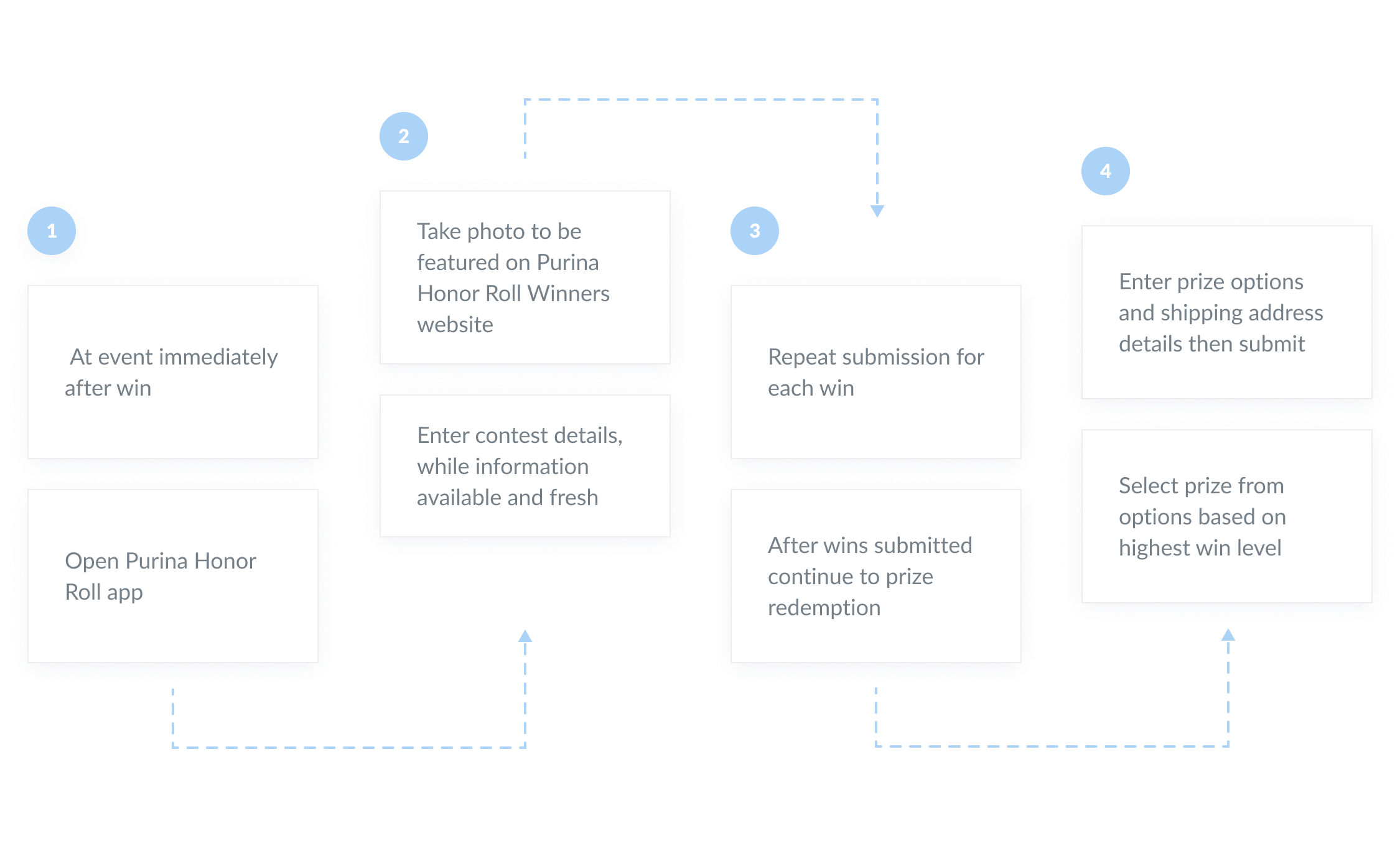 How Might We (HMW)
After defining the current state user journey, I conducted two half-day design workshop inviting key stakeholders and SMEs where I conducted a number of design exercises including "How Might We".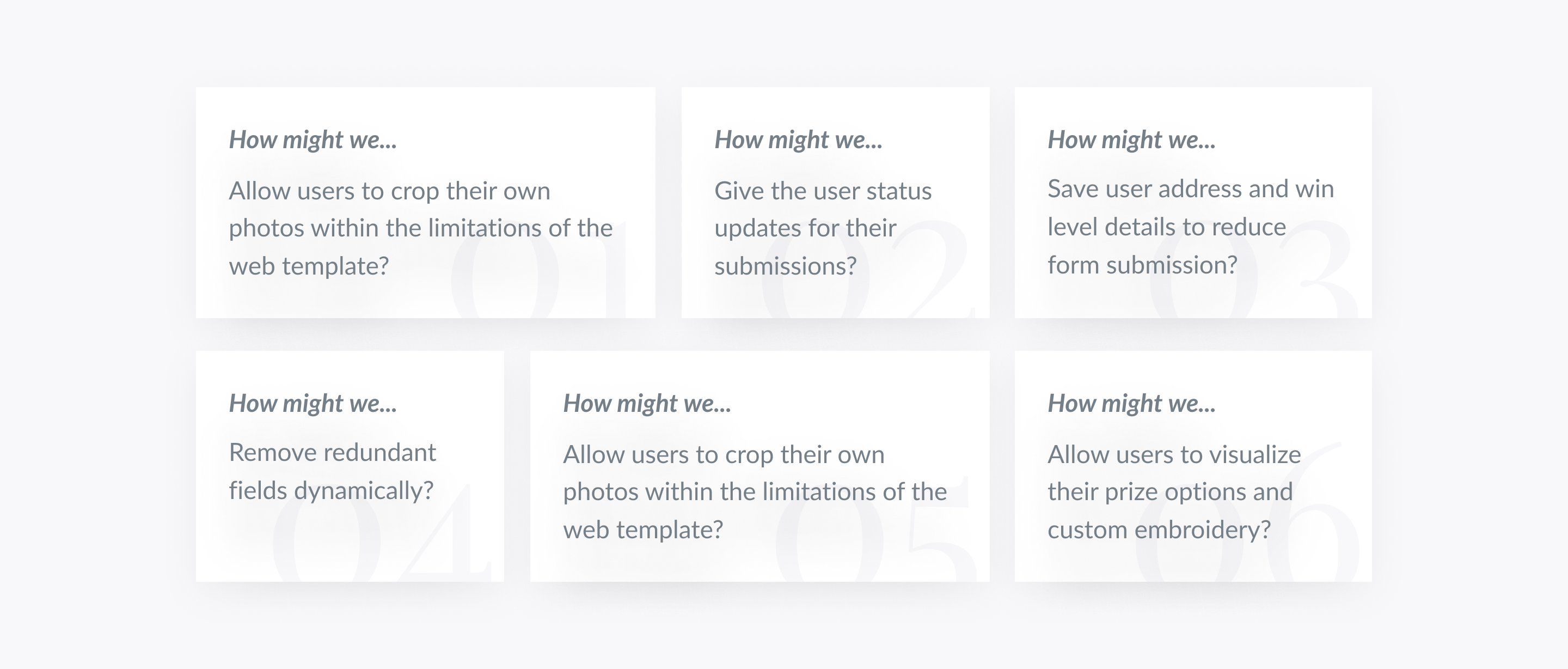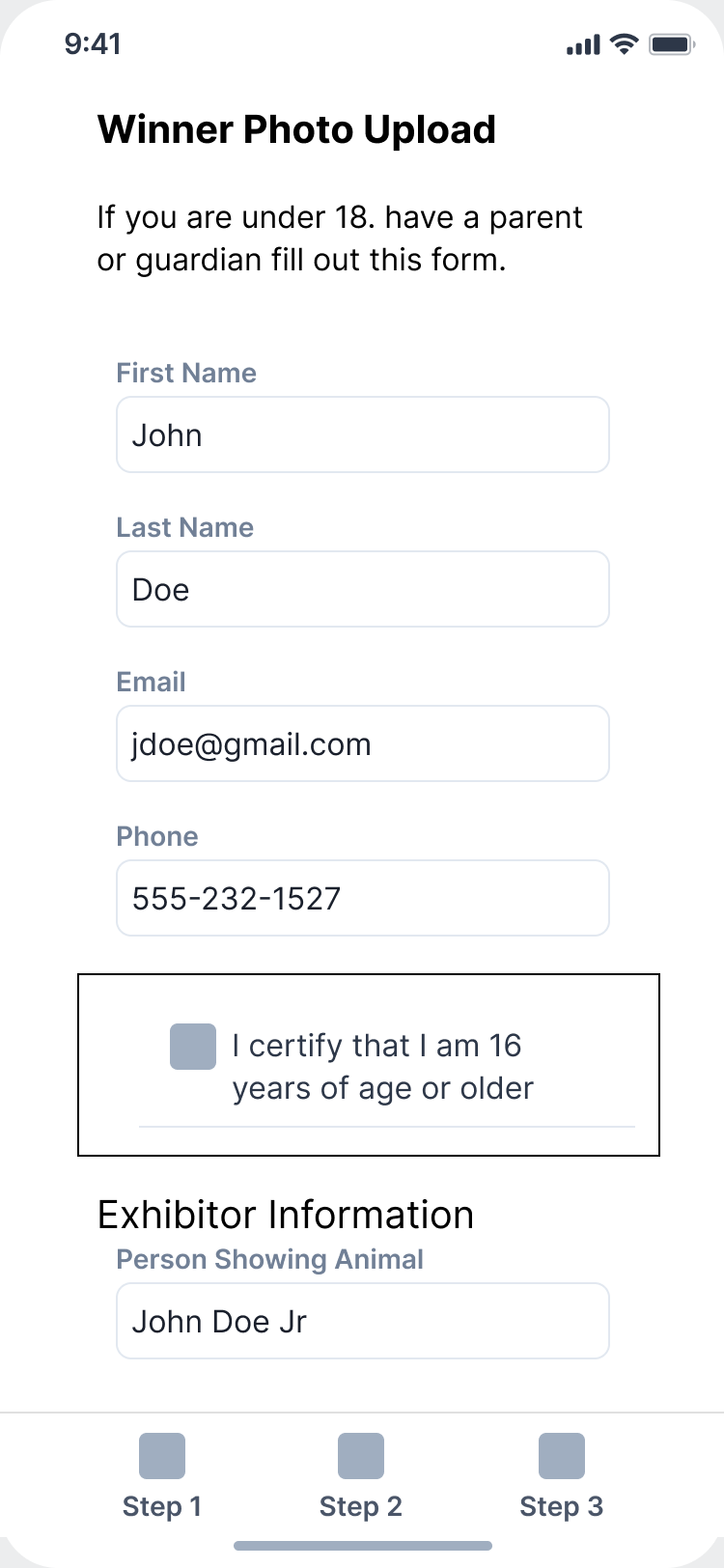 Wireframes
Using Figma, I translated my first sketches into low-fidelity wireframes. Then, I improved them by adding a few relevant stock images and copies provided by the marketing team. At this stage, the wireframes were defined enough for some user testing. Based on 4 tests, I've made a few alterations and moved on to creating high-fidelity prototypes.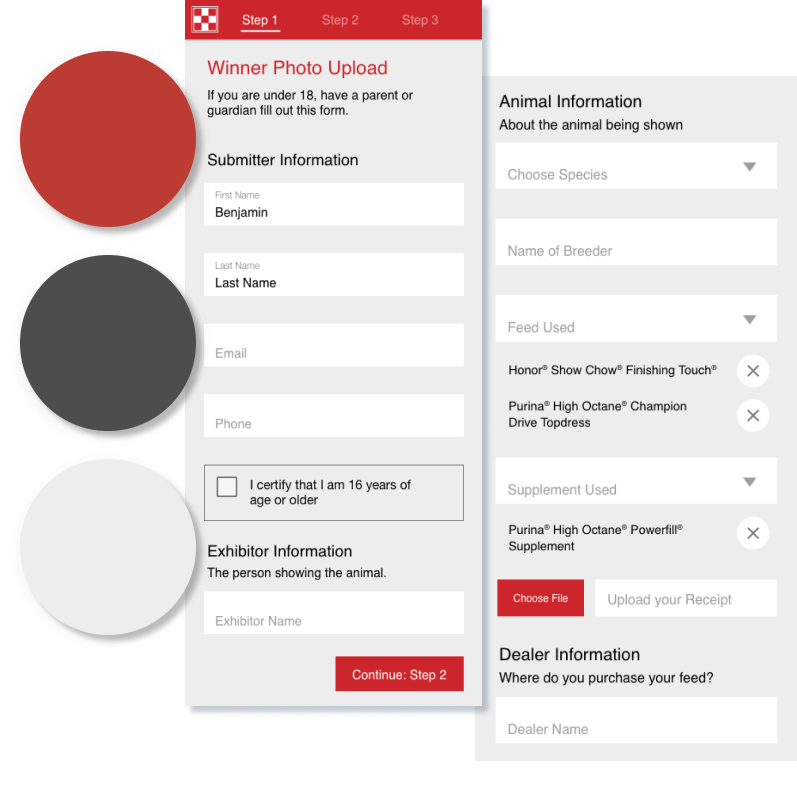 Winner Submission
I built interactive mockups using Figma, allowing stakeholders and test subjects to click through the win submission experience.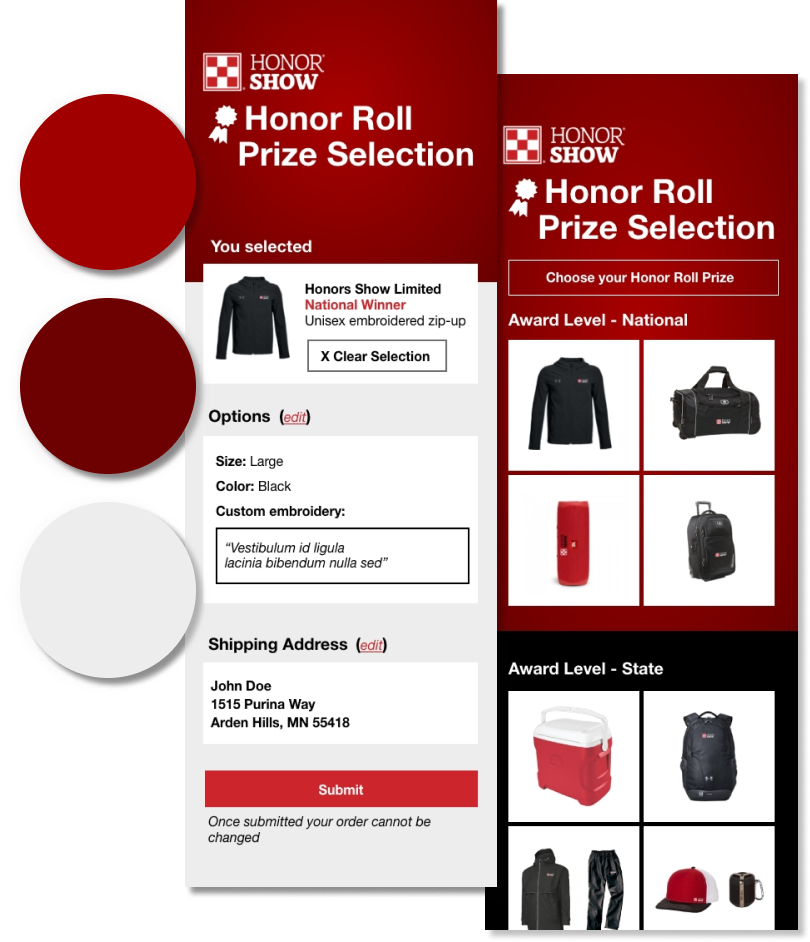 Award Redemption
I created another Figma prototype to separately test the award submission process.
Usability Testing
After I created the fully-functional, high-fidelity prototypes in Figma we started recruiting test subjects based on our personas who fit our criteria. We ran 4 usability tests in the first round and 3 after iterating on the issues that we've identified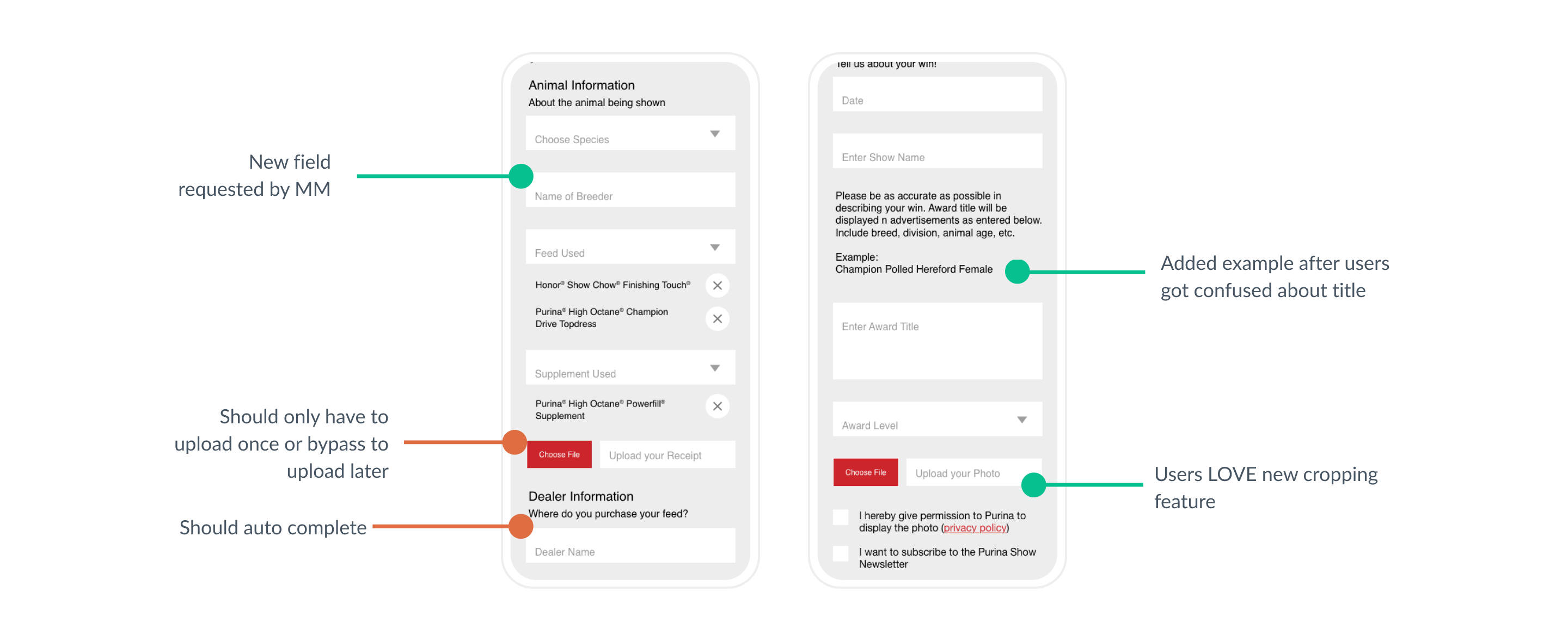 Result
The MVP for Honor Roll Winner Upload was launched in less than 6 months following initial project ideation and discovery.
- Automation and digital submission process removed paper, mail and manual photo scanning which saved an estimated 240 hours in employee resources in the first year.
- Winner submissions increased 80-85% in the first year as the submission process went from 45-60 minutes (including licking the stamp :) ) to just 3-5 minutes!